Years ago when we first got out Volvo V70 we published this DIY quick fix for the sticking ABS that causes the driver all sorts of other problems. But the truth of the matter is that it is just a quick fix.
As time progresses, the ABS unit performance will not improve. On the contrary, every time the temperature begins affecting the unit or the spaces, new problems would occur. We dealt with it for a while with just replacing the spacer with a new one (folded empty Wal-mart gift card), but this was also just a temporary fix.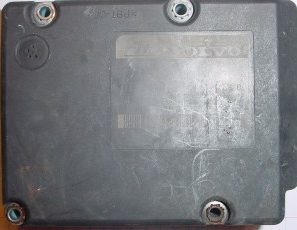 There is an easy DIY permanent fix by getting a refurbished ABS module for under $100 and replace it yourself for under an hour. After a couple of years of dealing with ABS failure, which blocks the dash board instruments, brings on the check engine light, overrides the 4th gear and puts the whole car in a limp mode where you cannot go over 30 mph, we finally resorted to a permanent fix.
Matt Pollack of Midwest ABS Exchange and Repair provided a fully working and tested refurbished ABS Volvo module which has now worked without any problems for 3 months on out 1999 V70 station wagon. While the ABS plastic spacer would provide you with a quick temporary fix, it is well worth investing the money to fix your ABS permanently.